Jacques Dutronc: Wiki, Bio, Age, Career, Music, Filmography, Influence, Wife, Early life, Children, Style, and details: Jacques Dutronc is a famous French Singer-composer from the 60s, who influenced the world of Pop-culture and Rock music. Keep reading this article to find out more about his life as a songwriter, composer, solo performer, and actor, and also about his personal life, and his influence over the rock music industry.

Who is Jacques Dutronc?
Jacques Dutronc is a famous French singer, songwriter, guitarist, composer, and actor. Throughout his career, Dutronc has delved into a plethora of career paths, starting from songwriting and composing to being a solo performer, and later branched out as an actor. Jacques Dutronc was famous for playing music which is a mix of traditional French Pop and French Rock music. He used styles such as psychedelic rock and garage rock which was something new at that time. He along with his wife Francoise Hardy was a pop icon of that time.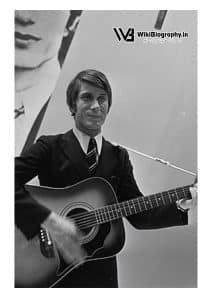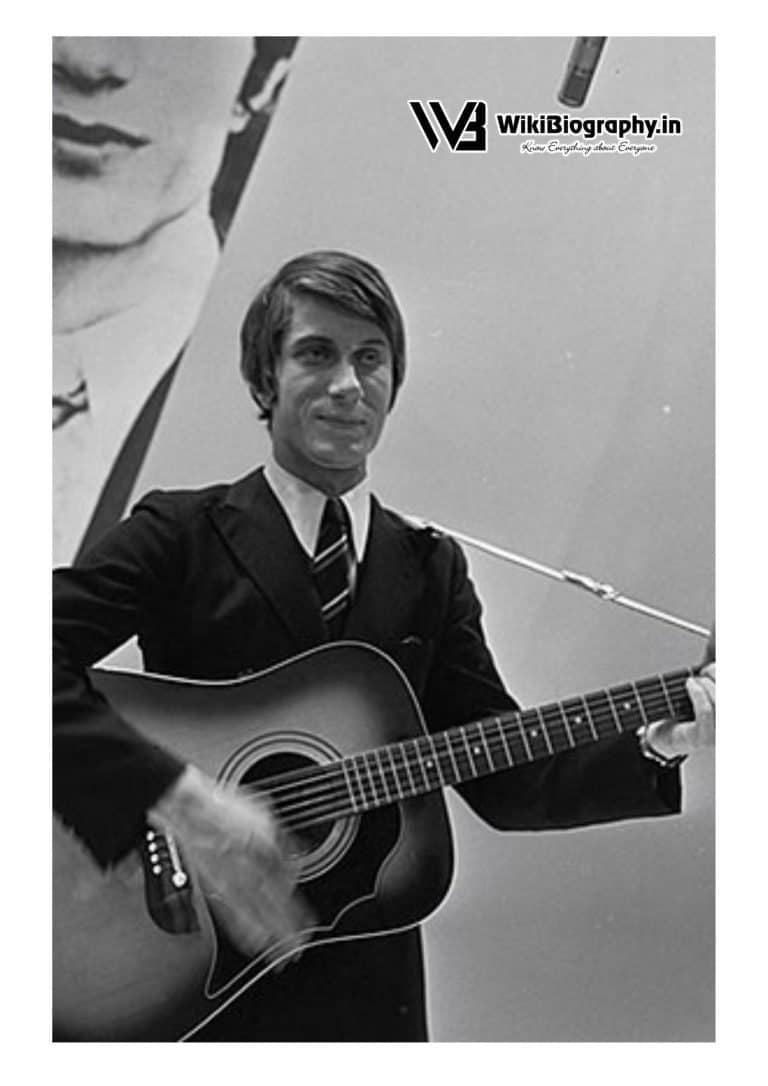 Jacques Dutronc Childhood, Parents, Friends
Jacques Dutronc, the famous French pop-culture figure was born on 28th April 1943 to his parents, Pierre and Madeleine. His father was a manager for the state-run Office of Coal Distribution. Jacques was educated first at Rocroy-Saint-Léon elementary school (now a Lycée). He then studied at the École de la Rue Blanche (now a drama school). He also studied Graphic Designing at the École Professionnelle de Dessin Industriel in 1959 but didn't complete it and decided to drop out to pursue his career as a full-time musician.
As a teenager, Dutronc, like most teens at that time, was inspired by the rock'n'roll songs of the US. He started learning guitar around 1959 and soon favored it over his Ukulele. As a youngster, he learned to play Piano and Violin as well. His introduction to musical instruments thus inculcated in him the art of creating music. Dutronc also worked in the military at the beginning of his career.
In his youth, he used to chill at the Le Calypso bar in France, with his friends Eddy Mitchell and Johnny Hallyday. Eddy Mitchel later became a famous actor and singer in France. Johnny Hallyday, on the other hand became a well-known French rock and roll and pop singer and is credited for bringing Rock and Roll to France.
Jacques Dutronc Career
His career started in the 1960s, and he kept batting up to the 21st Century. He tried out a variety of work in his field, from songwriting, and composing to releasing his solo albums, and worked with many other famous personas of his time. Later on, he also made a career in acting. Keep reading to know more about his career path in each decade.
1960s: Dutronc's First Band
Dutronc started by forming a band with his school friend Hadi Kalafate as bassist, Charlot Bénaroch as drummer (later replaced with André Crudot), Daniel Dray as the singer, and himself as the guitarist. Soon, the band auditioned in 1961 for Jacques Wolfsohn, who was an artistic director at Disques Vogue. Wolfson immediately signed them for work and gave them their first band name "El Toro et Les Cyclones". The band released two singles, "L'Oncle John" and "Le Vagabond".
It was during this time that Dutronc started writing hit Instrumental tracks for Vogue Labelmates, especially Francoise Hardy, who later became his wife. However, the Band didn't progress much and broke up when Dutronc was obliged to undertake military operations for his country.
His Second Start After Military
Dutronc's love for music and his passion to create persisted. Right after being discharged from the army in 1963, Dutronc started playing guitar in Eddy Mitchell's backing band for a brief period. Wolfsohn never forgot about him and he was given a job at Vogue as Jacques Wolfsohn's assistant. In this capacity, he co-wrote songs for artists such as ZouZou, Cléo, and Françoise Hardy.
Wolfsohn took a great interest in him and asked Dutronc to work with Jacques Lanzmann, editor of Lui magazine, to create songs for Benjamin, a beatnik singer. Beatnik was a group of artists who participated in the social movements of the 1950s and early 1960s which stressed artistic self-expression and the rejection of the mores of conventional society. They promoted an anti-materialistic approach to life.
Benjamin then published songs written with Dutronc and Lanzmann. The Dutronc-Lanzmann's song "Cheveux longs" as an EP in 1966. However, Wolfsohn didn't like Benjamin's recording of the song titled "Et moi, et moi, et moi". So, a second version was recorded with Dutronc's former bandmate Hadi Kalafate on vocals. Wolfsohn still was not completely satisfied and finally suggested Dutronc record his version. Dutronc's version of the song was a hit and reached number 2 on the French charts in September 1966.
Listen to the song: "Et moi, et moi, et moi"
Release of Dutronc's First Studio Album
Dutronc released his first studio album "Jacques Dutronc" at the end of 1966 and sold over a million copies. The single, "Les play boys" from his album, spent six weeks at number one and sold 600,000 copies. The song was written based on Lanzmann's experience while working as the editor of Men's Magazine Lui. The Album's huge success earned Dutronc a special Grand Prix du Disque award by the Académie Charles Cros, in memoriam of one of its founders.
Listen to the song: "Les play boys"
Soon Dutronc became one of the most commercially successful French music stars of the late 1960s to early 1970s. He released seven hit albums and more than 20 singles during this decade, and two of his singles reached number one: "J'aime les filles" in 1967 and "Il est cinq heures, Paris s'éveille" in 1968.
The 1970s: Dutronc Started Acting
In this decade he stepped into his acting career with the film "Antoine et Sébastien", directed by Jean-Marie Périer. He extremely enjoyed his new career and worked in films directed by the best directors of that time like Jean-Luc Godard, Claude Lelouch, and Maurice Pialat. His second film "That Most Important Thing: Love", directed by Andrzej Zulawski, was a major box-office hit in France. He was even nominated for the César Award for best supporting actor, for his role in Claude Sautet's Mado in 1977. He became so successful as an actor that even Steven Spielberg reportedly considered him to be the best French actor of his generation. Spielberg wrote the role of "René Belloq" in "Raiders of the Lost Ark" keeping him in mind. But sadly enough, he was not given the role because of his poor English accent.
Though his main focus in this decade was building an acting career, he continued with his music. He continued writing songs with Lanzmann till 1975 with only two solos. Lanzmann's wife is also credited in some of these songs. He wrote 3 songs with comic-book writer Fred famously known for his series "Philémon". In 1973, his song "Et moi, et moi, et moi" was adapted in English by lyrics by Ray Dorset, leader of Mungo Jerry group.  The English adaptation "Alright, alright, alright" became a no.3 hit in the UK.
1980s: Dutronc and Wolfson again
Dutronc with his old friend Jacques Wolfsohn started working on a new album in 1980. Wolfsohn proposed to Dutronc that he write lyrics with both Jacques Lanzmann and Serge Gainsbourg. However, things got a little sour when Wolfsohn asked Lanzmann and Gainsbourg to write alternative lyrics. The idea was to select the best of the two lyrics to go with one of Dutronc's instrumental demos. Lanzmann didn't like the idea of competing with another artist and dropped out of the project. Hence, when the album Guerre et pets ("War and Farts" – a play on the title of Tolstoy's novel), was released it only had two Lanzmann-Dutronc compositions, while the majority was written by Dutronc and Gainsbourg.
He also continued with his acting career during this time performing in several other roles such as "Malevil" , and in movies such as Barbet Schroeder's "Tricheurs". In 1987, he released another album, "C.Q.F.Dutronc". Most of the songs were written by Dutronc without a partner, although he collaborated with Etienne Daho , Jean-François Bernardini, and Muvrini.
1990s: Dutronc Awarded the

César
This decade was high in his career. Dutronc appeared in two films by Patrick Grandperret. He was nominated for a César Award for best supporting actor in 1999, for his role in Nicole Garcia's "Place Vendom". He was then awarded the César for Best Actor for the title role in Maurice Pialat's biopic "Van Gogh" in the year 1992. This is undoubtedly his most remarkable performance. His performance earned him huge praise from critic Christopher Null who said that Dutronc "manages to embody the obvious manic depression from Van Gogh's later years, all exuding from his scraggly face, sunken eyes, and bony frame… the searing Dutronc is the real reason to sit through the film".
Not just his acting career but his music career also flourished. In November 1992, Dutronc played three comeback concerts at the "Casino de Paris". Highlights from that show were released both as a film, directed by Jean-Marie Périer, and as a live album, "Dutronc au Casino". He started working on a new studio album, "Brèves rencontres". The work progressed slowly and was released much later in1995.
21st century: Jacques Dutronc Rose to Fame
By now, Jacques Dutronc established his position as a successful actor and music personality. Dutronc starred in Claude Chabrol's 2000 film "Merci Pour Le Chocolat". In 2002, he starred in Michel Blanc's "Summer Things". Meanwhile, in 2001 he was awarded the Best Actor prize at the Marrakech International Film Festival and was nominated for the César Award for best actor for his role in Jean-Pierre Ameris' "C'lest la vie". He received an Honorary César in 2005.
He reunited with his old partner Lanzmann in 2003 and together released the album "Madame l'existence". This album earned him huge praise from rock critic Christophe Conte. Conte stated that Dutronc's new work is "surpassing, without much apparent effort, everything that [Dutronc] has created in the last two decades". In 2010, Dutronc went on a tour for the first time in 17 years, and released recordings from the tour as a live album and DVD," Et vous, et vous, et vous." Throughout his career, he released 11 studio albums, 3 notable singles, 2 live albums and performed in 21 remarkable films.
Listen to the album: "Madame l'existence"
Jacques Dutronc Wife, Girlfriend & Family
Dutronc fell in love with Vogue label-mate and famous singer-songwriter, Françoise Hardy in 1967. However, it was not at all a love-at-first-sight thing. Hardy says "I first saw him in his office. His face covered in zits, and he wore really thick-rimmed glasses. I thought he looked dreadful – so naturally, I hardly paid attention to him!". Back then Hardy never thought that he would become the love of her life. 
Françoise Hardy was the face of Pop music in the 1960s. Most of her music was of sad, melodious tunes sung from the core of the heart. Her albums sold millions of copies all over France. She was famed for her quintessential French beauty. Her signature fringe and long hair have long since given way to a chic, snow-white bob, and a crimson silk kerchief offset her ivory pale skin. Her popularity as a pop and style icon is one of a kind. Vogue celebrated her birthday with a feature entitled – "10 style lessons to take from Françoise Hardy for the season ahead". Her songs have lent themselves to constant re-evaluation by several generations of fans and critics. One of her famous songs is "Le Temps De L'amour".
Their love grew as Dutronc started writing successful songs for Francoise and they started working together. He was quite unknown at that time compared to Hardy. Their relationship continued and together they had a son in 1973. Their son Thomas grew up to become a successful jazz and pop musician.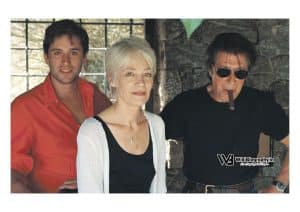 Dutronc married Francoise in 1981, reportedly for tax-related issues. However, they later got separated. Though separated, they are still married and meet each other regularly because of their long-standing friendship. Dutronc and Francoise Hardy remain the icons of the French 1960s Yé-yé music movement and continue to be loved worldwide.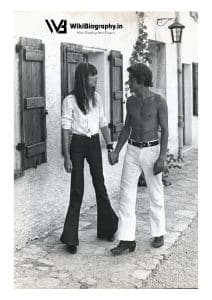 Hardy and Dutronc pose in a romantic way
The Dutronc Influence
Dutronc largely influenced the music and culture of France in the 1960s. According to a 1979 editorial in the French magazine "Rock & Folk", it is almost impossible to talk about France in the 1960s without bringing him up. In 1991, Dutronc's single, "Il est cinq heures, Paris s'éveille" was voted the best French-language single of all time in a poll of music critics. It was organized by "Le Nouvel Observateur" for a TV special broadcast.
Dutronc's Influence on Cultural History
Cultural historian Larry Portis says, Dutronc and Michel Polnareff together represented "the first French rock music that can be considered a musically competent and non-imitative incorporation of African-American and African-American-British influences". Moreover, Portis says that Jacques Dutronc marks a break from the literary tradition of French chanson and breathes new air with his creative use of sounds, rather than just the syntax of the language.
Tributes to Dutronc
His songs have been widely covered by other singers such as  Matthieu Chedid, Vanessa Paradis, Mungo Jerry, Etienne Daho, Sylvie Vartan, Miles Kane, the Divine Comedy, Serge Gainsbourg, Black Lips, Zine, the Last Shadow Puppets among others. The early Dutronc songs usually had a classic late-sixties freakbeat backing that bought him a new audience in the hip-retro clubs of the UK and USA in the late 1990s. And hence he is celebrated in the lyrics of the Cornershop song "Brimful of Asha".
Jacques Dutronc Style
Dutronc was impossibly handsome and charming. He dressed up in a gentlemanly style to keep the mums on his side, with just enough Dylanisms (shaggy fringe, idle look) to make him positively fashionable. His famous pose of holding a cigar in his mouth became an iconic look. He was regularly featured in several magazines of his time. He became popular as an actor because of his witty cynicism and youthful energy.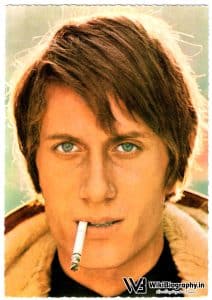 Here is a full bio of Jacques Dutronc, his family, father, mother, wife, son, school, education, hometown, profession, nationality, height, weight, eye color, hair color, gender, ethnicity, sexuality, age, net worth, birthday, birthplace, address, zodiac Sign, religion, hobbies, pets, marital status, university.
Jacques Dutronc Information Table
Name

Jacques Dutronc
Age
79

Gender

Male

Profession

Singer, Composer, Musician, Actor

Height (approx.)

in centimeters – 170cm

meters – 1.7m

feet inches – 5ft 6.9in

Weight (approx.)

in kilograms – 60kg

in pounds – 150lbs

Figure Measurements

Not Available

Eye Colour

Green

Hair Colour

Brown

Date of Birth

28 April 1943
Spouse
Francoise Hardy (now separated)

Birth Place

Paris, France

Zodiac sign/Sun sign

Taurus

Nationality

French
Sexuality
Straight

School

Rocroy-Saint-Léon elementary school

École de la Rue Blanche

College/University

École Professionnelle de Dessin Industriel(dropped out)

Educational Qualification

N/A

Religion

N/A

Ethnicity

French

Caste

N/A

Address

Monticello, Corsica

Hobbies/Interests

Playing Guitar, Composing

Marital Status

Separated
Pets
Mostly cats

Sexuality

Straight

Parents

Father: Pierre Dutronc

Mother: Madeleine Dutronc

Siblings

 

Not any

Relationship Status
N/A

Children

Thomas Dutronc

Net Worth

$1.5 Million
Social Media Accounts:
Some Lesser Known Facts About Dutronc
Dutronc had a brief relationship with 

Romy Schneider

while shooting the film, a famous German-French actress of that time. Dutronc started a fling with a stylist whom he had met on the set of the film "

Place Vendôme"

.

Jacques Dutronc's song "L'hymne à l'amour", from his album "

Guerre et pets

" faced with controversy. Moreover, the song received very little airplay because of its racist lyrics which is evident from the opening line, roughly translated as "gook, wog, towel-head, yid"). The album was only a moderate commercial success.

There are many crazy cat lovers among us. We see them post all about their cat's activities on reels. They can never stop having cats. Jacques Dutronc is undoubtedly one of them. He has a massive record of 40 cats and adores each of them dearly.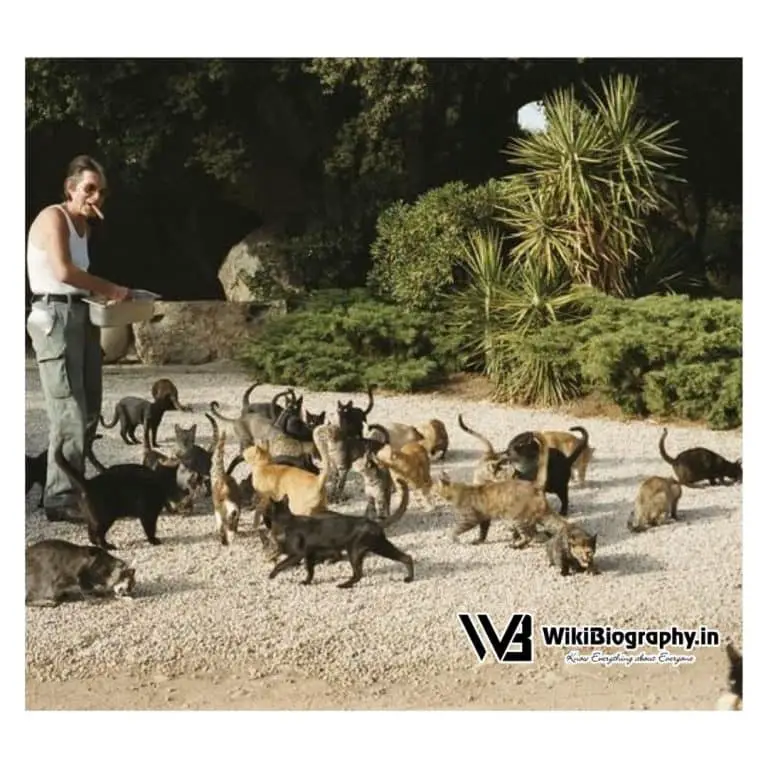 FAQs about Jacques Dutronc
1)Does he have any Social Media accounts?
Jacques Dutronc has a Facebook page under his name the link is shared here https://www.facebook.com/jacquesdutroncofficiel
2)Which is Jacques Dutronc's best album?
"Jacques Dutronc" 1968 album is ranked number 16,064 in the overall greatest album chart with a total rank score of 66. Hence, it is undoubtedly his best album.
3)Jacques and Hardy get separated. Why?
Jacques and Hardy claim to be each other's love of life, but their separation was triggered possibly because of unfaithfulness on his end. Moreover, there are no such clear records as to why they actually separated. Furthermore, Hardy repeatedly says that it was mutual.
4) Were Dutronc and Halliday friends?
They were friends initially in their youth years. What's more, is that they used to hang out at the Le Calypso bar in France.
Also read: Dakota Johnson: Wiki, Bio, Height, Age, Movies, Siblings, Husband
Subscribe to us to get the latest updates about Jacques Dutronc!