Sweet Home: Cast, Real Names, Released On , Story and Details : Apocalyptic films are a must watch. The film industry is being swept away by the apocalyptic concept. They are the new thrillers to today's people. When you hear the word apocalyptic it means that that is the end of the world like in the movie 2012 a word taken by another entity such as virus like the movie I Am Legend. There are a lot of apocalyptic films like Terminator, Residential Evil, interstellar, Train to Busan etc. All these are a mix of horror and thriller elements which the people love. Necklace came forward with this apocalyptic TV series called the Sweet home.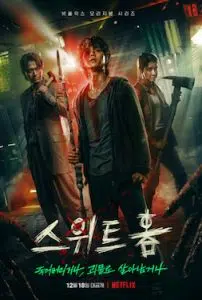 Story of sweet home
Story revolves around a boy named Cha Hyun Soo. Philosopher parents in an accident and he moved to a new apartment which is known by the name Green Home. Basically he is alone and moreover is quite life is suddenly disrupted by change in event occurs in the locality. The people there are persons by Monsters and they have changed into a monster of their own Desire that are left unfulfilled. Like for example if you are a gym freak, are so interested in getting the proteins and building your muscles.
So, if you are affected by a Monster  you get a nosebleed and you change into a Protein monster which is the character that is  in the drama. But that might not be the reason behind changing into a Protein monster. If you are affected you just change into a monster based on your hidden Desire. The story is about how the characters in the drama fight against such Monsters. Moreover, the series is an adaptation of the webtoon from the same name which is available in Line Webtoon App.
Details.
| | |
| --- | --- |
| Original Network | Netflix  |
| Written by | Hong So Ri |
| No. of seasons | 1 |
| No.of episodes | 10  |
| Released on  | Dec 18,2020 |
Cast of sweet home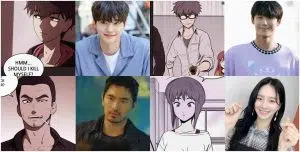 | | | |
| --- | --- | --- |
| Song Kang | Cha Hyun Soo | An high school student |
| Lee Jin Wook | Pyeong Song Wook | A man misunderstood as a Gangster |
| Lee Si Young | Seo Yi kyung | A former fighter |
| Kim Nam Hee | Jung Jae Heon | A Korean Teacher |
| Lee Do Hyun | Lee Eun Hyuk | A medical student |
| Go Min Si | Eun Hyuk's sister | Ballerina dancer |
| Park Gyu Yang | Yoon Ji Soo | A guitarist  |
| Kim Sang Ho | Han Du Shik | A man who can prepare weapons |
Also read: The uncanny counter: wiki, realnames, release date and details.