Korean dramas or web series are the latest hot topic. They are attracting audiences with new content and concepts. And Rom- coms are must watch in any South Korean Dramas. In this december there a new release called 'Lovestruck In the city'.
STORY OF LOVESTRUCK IN THE CITY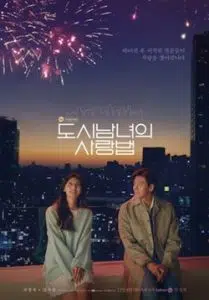 The story revolves around the male protagonist, Park Jae Won, he is an architect. He loves small small things like exploring the streets of south korea. He has a past where a woman catches his attention and disappears.
Meanwhile, the female protagonist, Lee Eun Oh is a freelance marketer and she goes on a trip unplanned there she meets Park Jae Won and she introduces herself as Yoon Sun a . And she falls in love with Jae Won while continuing the trip.
Lovestruck in the city explores the theme of real love stores that happenes in the cities of South Korea.
CAST
Ji Chang Wook is the main lead of the drama. Moreover, he ia an architect in the drama. His notable action web dramas are Healer, The K2 and his historical drama calle The Empress ki. For instance, the recent drama in which he started is Back street Roikie.
Kim Ji Won is the femal lead of Lovestruck in the city. Moreover, she is know for her roles in Descendants of the sun, The Heirs and her lead role drama called Fight For My Way opposite famous actor Park Seo Joon.
The other male lead is Kim Min Seok and he is known for his role in Descendants of the sun. And the other female lead is Seo Joo Yeon. the other notable actors are Ryu Kyung Soo and Han Ji Eun. the singer Choi Min ho of  Shinee is making his special appearance in Lovestruck in the city.
DETAILS
| | |
| --- | --- |
| Created by | Kakoa M |
| Network | Netflix |
| Written by | Jeong hyeon jeong and Jung da hyun |
| Country of origin | South Korea |
| Language | Korean |
| No. of seasons and episodes | 1 and 12 episodes |
| Released on | 22nd  December, 2020 |
| Duration | 30 minutes. |
CAST
| | |
| --- | --- |
| Ji Chand Wook | Park Jae Won, architect |
| Kim Ji Won | Lee Eun Oh/ Yoon Sun Ah |
| Kim Min Seok | Choi Kyung Joon |
| Seo Joo Yeon | Seo Rin Yi |
| Ryu Kyung Soo | Kang Geon |
| Han Ji Eun | Oh Sun Young |
| Choi Min Ho | Oh Dong Shik, a police officer |
Click here to watch the trailer of LoveStruck in the city.
Click here for more updates