Love Alarm 2: Wiki, Cast, Real Names, Plot and Details :  Netflix had broadened its spectrum and been associating with a lot of countries in the world. Among them Asian Netflix had been on good terms with Netflix. As a result there are new Series. And also It is not normal for a korean drama to have a season 2. And in the new Year we might be Expecting Love Alarm 2.
Story of Love Alarm 2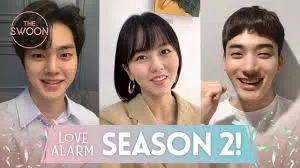 The Story is about an App Called Joalarm. The app enables And sends notification in a 10 meter Radius and who are the people that like you. But It doesn't show the details of how much the one specific person likes you. 
The story revolves around 3 teenagers, Going to the same school. And not loved by their parents and in search of love through JoAlarm app. The Season 1 was an open Ending and The viewers who Already Watched the 1st season are eagerly waiting for the second season.
Details of Love Alarm 2
| | |
| --- | --- |
| Network  | Netflix |
| Production Companies | Netflix, Studio Dragon and Hidden Sequel |
| Written By | Lee Ah yeon, Seo Bo Ra and Kim Sae Bom |
| Based on | A webtoon Love Alarm byChon Kye Young |
| No.of Episodes | 8 |
| Season 2 release date | TBA |
| Running Time | 42-56 min |
| Language | South Korean |
Cast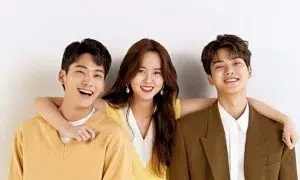 | | |
| --- | --- |
| Kim So hyun | Kim Jo Jo /Hard working girl |
| Song Kang | Hwang Sun Oh/ Model from a rich family |
| Jung Ga Ram | Lee Hye Young/Sun Oh's Best friend |
| Z. Hera | Kim Jung Go/ Jo Jo's Best Friend |
| Shin Seung Ho | Jo Jo' ex |
| Go Mi Sin | Park Gul Mi/ Jo Jo's cousin |
| Lee Jae Young | Developer of Love Alarm App |
| Song Sun Mi | Jeong Mi Mi/ Popular actress |
| Shim Yi Young | Mother of Hye Young |
| Kim Young Ok | Jo Jo's grandmother |
| Song Geon Hee | Marx/ idol Star |
| Kim Si Eun | Sun Oh's Girlfriend |
Also Read: Legends: Marvel Studios, Wiki
To watch Love Alarm Here